Pocket Nappies…
A waterproof nappy cover that has an opening on one side for inserts to be "stuffed" into.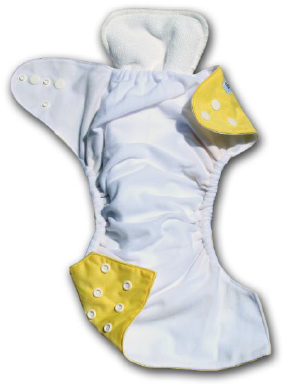 Pocket nappies have a waterproof (PUL) outer layer that comes in either a smooth finish or a more luxurious 'minky' finish. Which finish you prefer is entirely up to you.
The standard BiddyKins pocket nappies have a white microsuede inner lining which allows moisture to pass through to the absorbent inserts, leaving baby feeling dry. BiddyKins pocket nappies are sold with one white microfibre insert as standard. Pocket nappies are generally regarded as "one-size-fits-all" or "one-size-fits-most" – however this is a bit of a misnomer since in reality these nappies fit from about 5kg's onwards. Most healthy babies are born well under this weight – which means that pocket nappies are generally only used from about one month old onwards – refer to bottom of this page for a YouTube video that demonstrates how the nappies can be adjusted to fit from slightly lower weights.
Did we mention that BiddyKins Pocket Nappies were voted
f
avourite SA pocket brand in 2016 AND 2017
by South African cloth nappy users ?
Difference between Minky & Smooth Finish outer layer: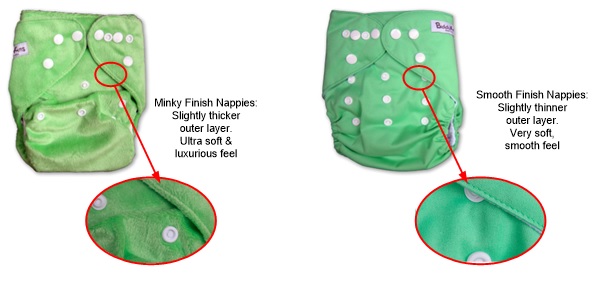 As seen in the comparison photos above - minky is a slightly thicker - almost velvety outer finish. Many moms have asked if this causes baby to feel hotter - in our opinion the ± 1mm thicker fibres on the outer layer are largely inconsequential considering that there are already so many layers to a cloth nappy (outer layer, multi-layer inserts etc). It really just comes down to which "feel" you prefer. Some moms don't like it (in Afrikaans you'd say "gril") other moms love how soft and luxurious it feels.
Pocket Nappy Structure: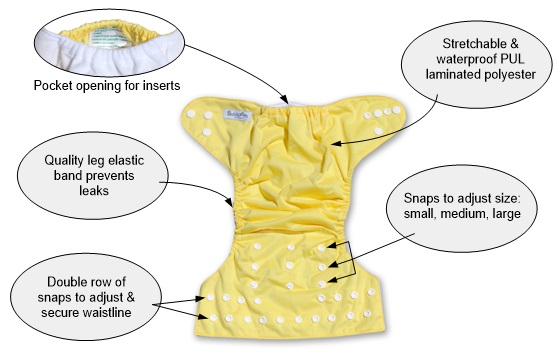 Pocket Nappy Components: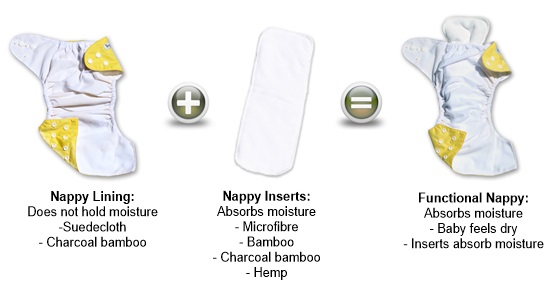 Advantages of Pocket Nappies
Disadvantages of Pocket Nappies

Fast drying - the shell dries very quickly, the inserts can be tumble dried.
Absorbency is easily adjusted by adding or subtracting different combinations of inserts.
When used, it is just like a disposable - very convenient.
Staydry inner lining keeps baby feeling dry.

Cloth nappy outer needs to be washed after every use
Marginally more expensive than simple folded cloth & PUL cover
Microfibre inserts must be "stuffed" into nappy pocket before use; (bamboo & hemp can be placed on top of lining) and all inserts must be removed with finger tips from pocket before washing
Size Adjusting Pocket Nappies: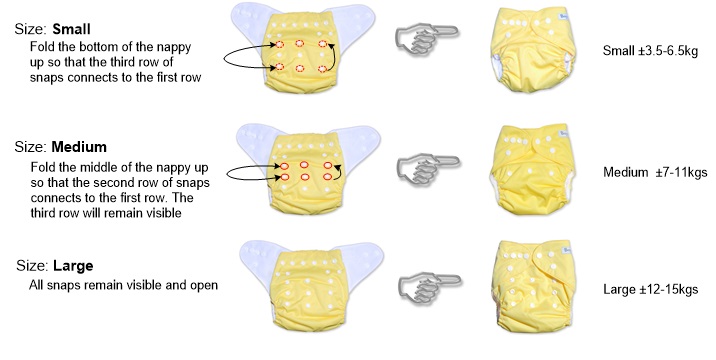 Have a look at our "Helpful Videos" section on the left menu which includes a video demonstrating correct nappy fitment