All-in-One Nappies…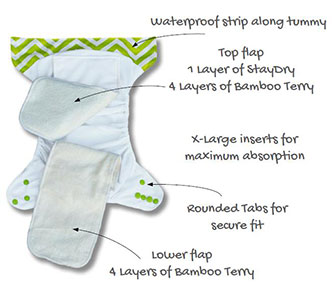 Summarised in one word: Convenience !
The concept or 'intended purpose' of an All-in-One nappy is to do away with the need to "stuff" inserts into the pocket/sleeve. Essentially instead of having loose separate inserts, the inserts are actually sewn onto (attached to) the nappy.
Keep in mind that a cover or a swim nappy, whilst as trim and slim as you can get - include absolutely no absorbency ! The more "trim and slim" the All-in-one nappy is - the less absorbency it has ! We found this to be the case with the generic All-in-One designs available on the market. Whilst the generic All-in-One nappy sold in SA worked well initially - as our little one grew a little bigger, started drinking a little more and therefore started peeing a little more - these trim All-in-One nappies simply did not have enough absorbency. Adding additional inserts within 6 months in our view defeats the purpose of the intended "All-in-One" which should include a reasonable amount of absorbency.
The custom designed BiddyKins All-In-One Nappy is unique in the South African market! It has also been voted SA's favourite ALL-IN-ONE by SA moms for the last 4 years IN A ROW!
It has been carefully designed to offer the optimum blend of cloth nappy features: It's not an overly bulky nappy, it offers excellent absorbency, and it does not contain hemp so drying times are reasonably quick. (Hemp takes significantly longer to dry and often requires a few minutes in a tumble dryer – which is not recommended for the nappy with its sensitive elastics and waterproof laminate)
.
BiddyKins All-In-One nappies feature two sewn-in insert "flaps" that are sewn onto the nappy at opposite ends of the nappy. This allows them to flap out and hang away from the nappy shell as they dry. Some other designs feature inserts that are actually sewn onto the underside of the lining – however since these are then tight up against the waterproof cover, there is little airflow – resulting in far longer drying times. A nappy that hasn't dried in time for use ...is about as useful as a dirty one!
The lining of the BiddyKins All-in-One is suedecloth (StayDry) so baby does not feel wet (a drawback of bamboo terry linings). The round tabs offer a secure hip snap allowing the nappy to fit snugly. The waterproof strip along the tummy helps prevent clothes getting wet. Two insert "flaps" are then sewn onto the nappy.
The inserts were specifically designed to be as large as possible to offer maximum absorbency:
The top insert flap includes a StayDry layer – so baby feels dry - and four layers of bamboo terry.

The second large flap is also four layers of bamboo terry (just without the staydry layer) – so the nappy contains a total of 8 layers of bamboo – making it a very 'thirsty' nappy!
Additional hemp booster inserts can then be added to the nappy and placed beneath the existing flaps as needed, to further increase absorption capacity.
Advantages of All-in-One Nappies
Disadvantages of All-in-One Nappies

Super convenient – no need to search for inserts, no need to stuff inserts into pocket/sleeve.
Super absorbent – featuring 6 layers of bamboo terry & two layers of microfibre.
Absorbency can easily be boosted by adding an additional insert.
Baby feels dry – lining and top flap layer is "StayDry"

Entire nappy needs to be washed after every use
Can be more expensive than simple folded cloth & cover
Can take longer to dry: An All-in-One should not be tumbled dried, this means the nappy along with the attached inserts must be line dried due to the sensitive elastic bands and waterproof laminating
The BiddyKins All-In-One Nappy is similar in size to a standard pocket nappy - i.e. also a "one-size-fits-most" design (±5Kg - ±16Kg).