All-in-2 Sleeve Nappies…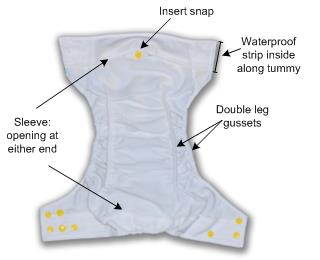 Similar to a pocket nappy (i.e. with a sewn in lining), but with a few extra features.
The white inner microsuede lining features a sleeve design, making it easier to stuff the inserts into the 'sleeve' - allowing the insert to be stuffed/positioned from either end. The sleeve design also means that the inserts will "self-agitate" in the wash - so it's not necessary to remove the inserts from the sleeve.
It has an additional waterproofing strip along the tummy to help prevent liquid creeping up baby's clothes if the clothes slip inside the nappy along the tummy. The BiddyKins All-In-Two Sleeve Nappy also features a double leg gusset, offering extra protection against leaks around the legs – but only if the inserts are slipped into the sleeve.
The tabs feature a squared off design, as opposed to the rounded tabs of a standard pocket. The cut of the nappy is also slightly larger than a standard pocket.
There is also a snap on the inside allowing a bamboo insert to be clipped in and held in place if lying on top of the lining. All these extra bells and whistles do make the All-In-Two a little bulkier than the standard pocket nappy.
BiddyKins All-In-Two Sleeve Nappies are usually sold with two bamboo inserts as standard.
The BiddyKins All-In-Two Sleeve Nappy is similar in size to a stadard pocket nappy - i.e. also a "one-size-fits-most" design (±5Kg - ±16Kg).